3rd June, 2019
GPR for Utility Mapping Training Course – ProQual Accreditation now available!
Blue Hat are pleased to announce that through our association with CSTA-Global, the Blue Hat GPR for Utility Mapping training course now meets all the criteria for a Proqual standalone unit award within the existing Level 4 and 5 QCF Utilities mapping framework.
ProQual provides nationally recognised qualifications for those working in a surveying or construction environment.
The GPR for Utility Mapping two day training course is aimed at the equipment user and at individuals and companies interested in developing subsurface mapping experience. By understanding the subsurface environment prior to any excavation or drilling, you will be able to make vital decisions and avoid utility damage.
If you are looking to progress your career and develop your skill set, this certified training course will help you achieve your goals.
Our training courses are interactive, cost-effective and can be tailored to your specific goals and needs. Contact us to discuss your requirements.
Call 01953 604 040 or email sales@bluehatservices.co.uk
28th September, 2018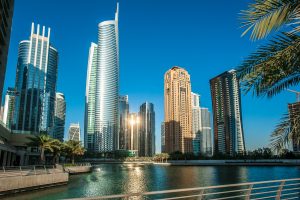 Blue Hat opens Dubai Office to support global expansion
Blue Hat continue to expand their International presence with the opening of a new office in Dubai to provide support for its growing customer base in the Middle East and Africa.
Specialising in global training and consultancy for GPR applications, Blue Hats' vast years of experience has helped them to develop a strong presence in specialised surveying techniques and services to civil engineering sectors. "We firmly have innovation at the forefront of our business to deliver quality, safe and cost-effective solutions" says Colin Tickle, Managing Director.
With a worldwide customer base, it is an exciting time at Blue Hat, as they develop their business around the globe. The Company has confirmed their presence at 2019's Trenchless Middle East exhibition, confirming their commitment to develop key relationships in the region.
Blue Hat has a great reputation for delivering specialist, market-leading GPR training and consultancy solutions and "are truly committed to adding real value to customers' businesses and to the trenchless industry through innovation and education" says Matthew Bunting, UK and UAE Business Development Manager.
The incorrect use of GPR and the lack of professional training is still a current issue. Blue Hats' goal is to help professionals to accurately understand their environment, how to efficiently use GPR technology and better execute their work. Ground Penetrating Radar training and education will provide professionals with vital information and skills that are recognised across the utility location industry and will prevent damage to utilities and loss of income to businesses.
Specialising in Utility Mapping, Blue Hat can also provide bespoke training on a wide range of applications from pavement evaluation, railway ballast measurement and condition assessment, concrete inspection through to interferometric radar for structural monitoring. These courses are focused on the industry needs and requirements and provide real world conditions in a safe environment.
Dedicated training courses are available for all levels of students:
– Introduction for Management
– Utility Mapping
– Data Post-Processing
– Advanced GPR
– GPR Product Training
Contact us for more information about our training courses and services.
---